Beat Crohn's! Getting to Remission with Enteral Nutrition describes a strikingly effective way of treating Crohn's disease with diet that has been nearly forgotten in the US.
The European Society for Clinical Nutrition and Metabolism calls the neglected therapy "the first-line treatment" for children with Crohn's.
The British Society of Gastroenterology considers it an alternative to "steroids, immunomodulators, or surgery for any patient with active disease."
It is a standard treatment for Crohn's in Europe, Canada, and Japan, but is rarely prescribed in the US.
This special diet—known as "enteral nutrition"—has been used by people with Crohn's since 1969 and has been tested in numerous clinical studies. It can control a flare as effectively as steroids—without the side effects—and can also be used to help maintain remission. It can even work in people who are steroid-dependent or who have stopped responding to the usual medications for Crohn's.
Beat Crohn's describes who can benefit from enteral nutrition, why patients might want to use it, what symptoms respond best, and how the diet compares with medications. Readers will also find practical tips on using enteral nutrition and stories of kids and adults who have tried it.
Margaret Oppenheimer, the author of this easy-to-read but comprehensive guide, has worked as a medical writer for more than 10 years. She has personal experience with enteral nutrition.


Table of Contents
A Note to Health-Care Providers
1 What is Enteral Nutrition?
Learn what enteral nutrition is, who developed it and why (hint: NASA was interested!), and explore some of the hypotheses on why it works.
2 Checking Out the Competition: Treatment Options for Crohn's
Look at the pluses and minuses of the drugs most commonly used to treat Crohn's disease, and explore why and when you might want to consider using enteral nutrition instead.
3 Happy Kids, Healthy Bodies: Enteral Nutrition for Children
Discover the benefits of enteral nutrition in children with Crohn's, including kids with growth delays and those eager to avoid steroids.
4 Good Stuff for Grown-Ups, Too! Enteral Nutrition for Adults
Explore the advantages of enteral nutrition for inducing and maintaining remission in adults, including its use during pregnancy.
5 Time for a Challenge: Enteral Nutrition in Complicated Crohn's
Learn about the use of enteral nutrition to treat complications of Crohn's disease such as short bowel syndrome, perianal disease, fistulas, and strictures.
6 But My Doctor Says It's Not Crohn's: Enteral Nutrition in Ulcerative Colitis, Indeterminate Colitis, and IBS
Examine whether enteral nutrition is useful in ulcerative colitis, indeterminate colitis, irritable bowel syndrome, and celiac disease.
7 Decisions, Decisions! Choosing a Formula
Learn about the different types of enteral nutrition and how to choose the right formula.
8 Go For It! Using Enteral Nutrition
Get the scoop on how to get started and what to expect during a course of enteral nutrition.
9 Beyond Enteral Nutrition: The Real Truth About Diet in Crohn's
Examine studies of other dietary regimens and supplements such as fish oil, probiotics, and low- or high-fiber diets.
Appendix A. Understanding Growth Charts: How Does My Child Measure Up?
Appendix B. Sources for Enteral Nutrition Formulas
Notes. Glossary. Bibliography. Index. Acknowledgments. An Invitation to Readers.
Success stories from readers
These stories come from readers whose children reached remission thanks to the use of enteral nutrition. Names are changed to protect patients' privacy.
My son Mike, now age 7, was diagnosed with Crohn's disease of esophagus, stomach, and small bowel last July (2009). Enteral nutrition was mentioned at that time, but only in the context of what other countries do for first-line treatment. Mike began steroids and Imuran. In December, we learned that the Imuran was not keeping Mike in remission as we had hoped, and we were offered methotrexate, Remicade or enteral nutrition (EN) as choices for next treatment. EN was not embraced at all, as Mike's GI recommended we try Remicade, and he said he would choose it for his 6-year-old. There was no information provided to help us make the choice to try EN.
After months of Internet searching and even seeking a second opinion, I discovered your book one day, and immediately read it cover to cover. My 6-year-old read parts as well. Excerpts brought tears of much needed affirmation to my eyes!! The book pulls all the EN treatment history and studies together, and validates my own research and more importantly my gut instinct around this treatment choice. Thank you, thank you, thank you…from the bottom of my heart for writing this book!!!!
Mike began enteral nutrition as treatment on April 9, 2010 as an inpatient at a children's hospital. I brought your book to the hospital with us to share with everyone in case…and it was a good thing! The residents and medical students and nurses had never seen this treatment in practice! Most had never heard of it! The attending was very pleased to see Mike doing it. Mike was a trooper, and after initially adjusting to the tube (with ice chips for a few hours) he has never complained about it! He is gaining weight, and has had boundless energy for the first time (without steroids) in a couple of years!!! Today, May 6th, 2010, Mike's GI pronounced Mike officially in remission with enteral nutrition, after 4 weeks at 90% EN, 10% whatever he feels like eating… (which amounts to not much, but nice to know he can eat what he wants). Mike is off ALL medications, Pentasa, Imuran, iron, multivits. even…since it is all provided by the EN formula. So, I think, for the first time since diagnosis last July, Mike is in TRUE REMISSION!! THANK YOU SO MUCH.

Mike's mom, May 6, 2010


Kathy, our 12-year-old daughter, started with Crohn's related symptoms when she was a 5th grader in May 2008. We, of course, had no idea what was going on, and neither did her pediatrician at the time. He said it was probably a "bug", treated her for that, and did not refer us to a GI. When the diarrhea, vomits, cramps and weight loss, the constant lack of energy and joint pains did not go away, we went back to the PCP and were fortunate enough to be seen by an associate who was alarmed to see a weight loss of over 10 lbs in a one-month period. We were then referred to our first pediatric GI. My daughter was treated with prednisone, Asacol, metronidazole, and 6MP, and was also taking vitamins and calcium supplements. This treatment lasted from December 08 to June 09. During that period she was tapered off the prednisone and continued with the other medications I mentioned. She seemed to be doing well.
In June 09, Kathy started flaring again, right after a routine visit to the GI. When we went back to see him, he resisted the idea of putting her back on prednisone, and started her on Cipro. That did not work so he gave in to the prednisone. During that summer Kathy was taking 16 pills a day. These included 45 mg. of prednisone daily.
Still she was not getting any better. So we decided to ask for a second opinion. The new GI we saw said that the former one had been doing "all the right things", but also identified a problem with Kathy's nutrition. She noticed Kathy was drinking about a liter a day of a soy based drink that contained apple juice. She told us to discontinue this, but still kept Kathy on the same medication protocol. Kathy got better for a while, but it did not last long. The diarrhea, abdominal pain, vomiting and other symptoms resurfaced in a couple of weeks. On October 09 Kathy's sedimentation rate was 53. The GI explained that the sed. rate measured the inflammation and that the highest point of the normal range was 20.
By now I had started my own quest for a solution to this ailment. One morning that first October week I received a call from the GI who motioned that if Kathy did not get better soon we had to put her on Remicade. We did some more lab tests, and while the results were coming back I received a call informing me about one more book that had arrived for me: "Beat Crohn's…." I was so desperate that I cancelled all my work appointments for the afternoon and spent it reading. I immediately called the nutritionist and mentioned what I had read. Why hadn't anybody in the GI team mentioned this? Was it really so good? Was it really clinically proven to work? The nutritionist, a Brazilian immigrant, was familiar with enteral nutrition and its benefits and commented on it to the GI. The next day the GI called me with Kathy's lab results. Her sed reate as I mentioned before was 53. She said we needed to start her on Remicade at once. I replied with enteral nutrition and insisted on it. She said it was very hard to do. She almost discouraged us, saying the formula had a bad taste. She mentioned she could have Kathy learn how to put on a nasogastric tube, but she did not believe we could do total enteral nutrition (TEN), we would probably fail. I told her we had to try. That weekend, October 10, Kathy tasted the first cans of formula. I made them in a slushy, and she tolerated them. She supplemented for two days. Her bowel movements (BM) went from 7 to 2 a day in just one weekend of supplementing. On October 13 we started with total enteral nutrition for 6 weeks.
We immediately started seeing results: Kathy had labs done on 10/19. Her sed rate was down to 23 (only 6 days into total enteral nutrition), almost normal. By 10/24 she was only having one BM a day and there was some volume to it! By 10/30 Kathy was still on 20-25 mg prednisone, but the good results with TEN were encouraging, so we kept up the tapering. On 11/21 we did labs again: Kathy's sed rate was 3 (THREE!!!!!) "Almost invisible" said the GI, when she ran into the room shaking the papers with the results in the air.
Kathy's energy level was optimum; she got straight A's in school, did not miss a day and participated in all her extracurricular activities.TEN helped her keep up with everything she wanted to do. We developed a plan to slowly go back to solid food, gradually reducing the intake of formula. Today she is still doing wonderfully. Her weight has settled at 105 lbs (up from 88 lbs), and she has grown in height at least 2 inches since she started with enteral. She is currently supplementing her diet with 3 containers of enteral nutrition per day.

Kathy's mom, April 15, 2010


Why should I read about enteral nutrition?
As every patient knows, Crohn's disease is a lifelong fight. Being well informed about the disease and ALL the available treatment options is the best means we have of standing up to the illness. See what one reader of Beat Crohn's says:
"I have several family members with Crohn's, and after reading this book passed it on to them. It is a terribly debilitating disease in its severe form, and getting sufficient nutrition is difficult. Enteral nutrition is not something their treating physicians had mentioned, and my relatives were happy to get this book. Easy to read, packed with information."
journeys, Jul 26, 2009
Are you ready to find out if enteral nutrition is the right treatment option for YOU? Get your copy of Beat Crohn's now and receive free Media Mail shipping in the United States!
CLICK HERE

to buy a copy of Beat Crohn's! Getting to Remission with Enteral Nutrition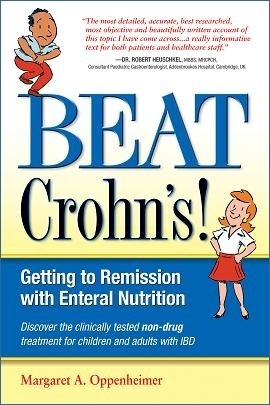 CLICK HERE

to read a FREE excerpt (pdf format)
"I think this is the most detailed, accurate, best researched, most objective and beautifully written account of this topic I have come across…by quite a long way! It is a huge amount of work, laid out in a clear and accessible way and is a really informative text for both patients and healthcare staff. I myself would love a copy of this as a reference text for teaching and staff training."

Dr. Robert Heuschkel, MBBS, MRCPCH, Consultant Paediatric Gastroenterologist, Addenbrookes Hospital, Cambridge, UK
"This easy-to-read book comprises a comprehensive and balanced assessment of the role that enteral nutrition plays in the management of Crohn's disease in children and adults. Enteral nutrition has been a forgotten and neglected treatment for Crohn's disease in many parts of the world — this book should help to change this, and will help many people (patients and health professionals alike) to understand a little more about this therapeutic option."

Associate Professor Andrew S Day, Paediatric Gastroenterologist, Sydney Children's Hospital and University of New South Wales, Sydney, Australia
"This book will help patients, families, and healthcare practitioners as a practical resource and should enthuse them about the importance of nutrition in Crohn's disease and its relevance to children, young people, and adults. It will encourage practitioners to offer, and patients to expect to have offered, enteral nutrition as a primary therapeutic option, and as continued nutritional support when other treatments are required."

R. M. Beattie, FRCPCH MRCP, Consultant Paediatric Gastroenterologist, Honorary Senior Lecturer in Nutrition, Southampton General Hospital, England, UK
"Easy to understand for a lay reader and particularly a Crohn's disease patient. I really do think this book will be valuable to patients and their families."

Professor Colm Ó'Moráin, DSc, MSc, MD, MA, Dip. Imm., FACG, FEBG, FRCP, FRCPI, FTCD, Consultant Gastroenterologist, The Adelaide and Meath Hospital, Dublin, Professor of Medicine, Dean of Health Sciences, Trinity College Dublin
"The book is designed for the patient and family with Crohn's disease and provides not only a detailed role of the use of enteral nutrition in this disease but also a summary of other therapies. The information given is evidenced-based and balanced in the claims for the role of enteral nutrition. The author avoids the use of medical jargon or explains the jargon where appropriate. There are illustrative case histories to which patients can relate. I would certainly recommend it to all patients with Crohn's disease and colitis. Patients with irritable bowel syndrome who are wondering about nutritional therapy will also get information."

Khursheed N. Jeejeebhoy, FRCP(C), Ph.D., Staff Gastroenterologist, Division of Gastroenterology, St. Michael's Hospital, Toronto, Professor of Medicine, Nutritional Sciences and Physiology, University of Toronto
"The author does a very clear job of explaining the basics about how to deal with Crohn's from a nutrition angle. However, she also discusses the pros and cons of the traditional doctors' methods. Her book will appeal to people who want a more natural approach to dealing with Crohn's but want something which has been approved by the traditional medical community. Her presentation is very easy to follow and to use as a reference later."

NathanaelS, June 9, 2009
"Margaret Oppenheimer in Beat Crohn's: Getting to Remission with Enteral Nutrition makes a good case for giving enteral nutrition a try for Crohn's disease. Although it does not work for everyone, it has a better success rate than many other treatments and may result in longer periods of remission than other treatments. She has written a comprehensive study about Crohn's disease, enteral nutrition, other treatment options, and various diets and their impacts on Crohn's. Even if you decide after reading her book not to try enteral nutrition, you will have learned a tremendous amount about the disease, including personal stories by other victims of Crohn's. It is written for the medically informed layman. Her comments are supported by extensive research citations. The data are very well organized. She writes beautifully, and the pages turn quickly. It's the best study of a disease that I've read for a long while. If you have Crohn's, ulcerative colitis or Irritable Bowel Syndrome or know someone who does, this is a must read."

cvjacobs, June 28, 2009
"I might have IBD so reading about Crohn's was of interest to me. It spells everything out very well for the layman. Tons of information on different treatments other than going the eternal nutrition way, then later explaining if it would help in other gastro-intestinal disorders. This book has a lot going for it, and even has website links for further research."

timidmagick, June 10, 2009
"Beat Crohn's by Margaret A. Oppenheimer reads almost like a book in the For Dummies series. Simple explanations (without all the medical jargon) for a very complicated condition make for a quick, easy read. The reader is assumed to have knowledge of Crohn's, so the author moves immediately into descriptions of the various medical interventions commonly used in treatments. She compares the viability of steroids, biologics, and immunomodulators to the use of enteral nutrition and speaks of the combination of both drugs and enteral nutrition. Oppenheimer describes the ways in which a very simple method of liquid nutrition (either alone or as a supplement to a regular diet) can possibly lead to remission for someone suffering from Crohn's disease. Often times this is when medicines have failed already and doctor's are ready to resort to the first of many surgeries. She makes a good case for a treatment that is often used in other countries, but seems to have fallen by the wayside in the U.S. Anyone who has tried other methods to get control of their Crohn's and has been disappointed may want to give this book a try. They will find plenty of information on different methods of enteral nutrition, statistics showing its effectiveness, lists of sources for obtaining the nutrition formulas available, and a massive bibliography for just about everything you could want or need to know about Crohn's."

grem458, June 9, 2009
"I've lived with Crohn's for 10 years and I am glad to have this information. I think that if someone is in a full blown flareup and isn't responding to medication, it might be worth it to try this. It would be extremely difficult, for sure. After I had surgery (I had one inch of intestine removed, not a lot compared to many of the people discussed in this book), I was put on complete paraenteral feeding (through an IV) for six days, and I wasn't hungry at all, but this isn't quite the same. I honestly don't know if I could do it. Oppenheimer does discuss the pros and cons of enteral nutrition, and I think, at least in my case, it's not really a viable option. But I have responded to medication. If I hadn't, I can say for sure that two or three weeks of drinking your nutrients is a MUCH better option than surgery. Your body is not the same afterwards, trust someone who's been there. In any event, it's good to educate yourself as much as possible, and Oppenhemier has done her research well. Check it out, it may not be the best option for you, but at least it's a viable one."

waitingtoderail, June 14, 2009
"This book is incentivizing others to consider this method (enteral nutrition) of treatment in order to reach remission from Crohn's Disease, and in my opinion she does an excellent job of it. Having a family member with this disease, created an interest in learning more about Crohn's Disease. I found this book not only interesting material, but also thorough, without being "heavy". I liked that the author provided the information needed to look up the specific research study sources in an appendix rather than spreading them throughout the book. The author also had an appendix (glossary) of medical terminology in the back of the book which was very helpful and efficient. I am looking forward to sharing this book with my family member whom is suffering from UC/IBS."

annacamp, June 23, 2009

If you have already tried enteral nutrition to treat IBD, would you be willing to help fellow patients by sharing your story? CLICK HERE to share your experiences.



CLICK HERE to visit Margaret Oppenheimer's Crohn's News Blog, where you'll find the latest research on Crohn's disease and the coolest digestive facts.